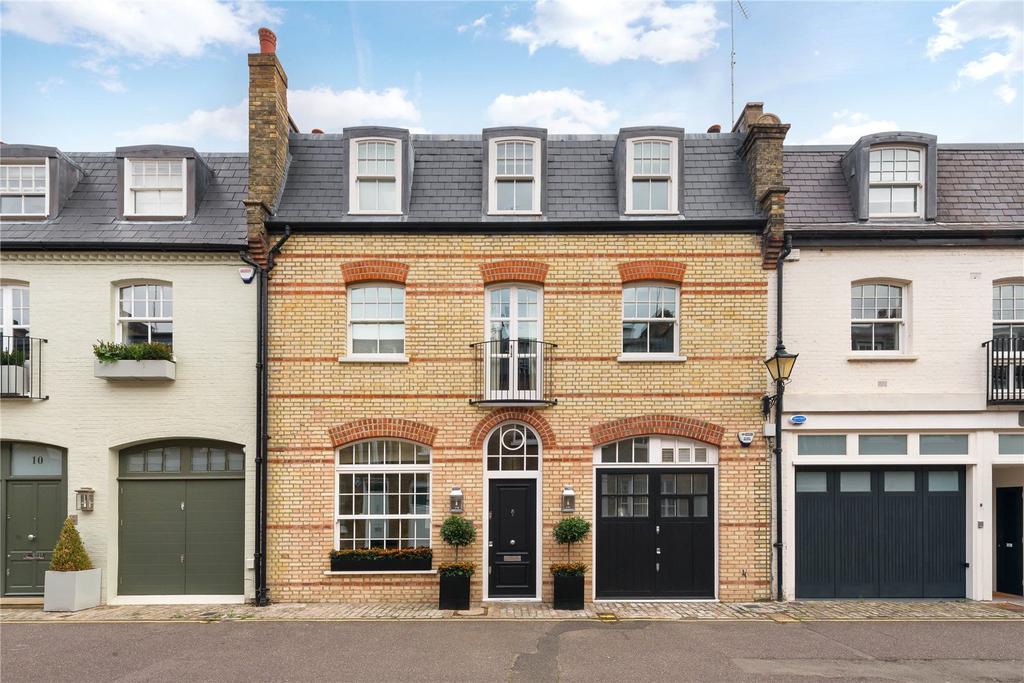 Won't it be amazing if you could just walk your children to school from your house in central London? Imagine if the London underground station was just a 5-minute walk away from your home. Won't it be great to have your own parking, free of charge, in the heart of London? Mews houses in London are making these very hopes and dreams of every Londoner become a reality, and that is why mews house for sale in central london are grabbing a lot of eyeballs.
Located in beautiful streets, with that old school architecture with just a hint of culture, mews houses have some of the prettiest surroundings. Given that mews were originally horse stables in the earlier days, they have a distinct character and old world charm about them. In recent years, mews houses in London have become some of the most wanted and fastest selling properties, and for good reasons. The London locals are absolutely in love with mews houses, and we think we might know why.
1- Mews have the best locations
Yes, the streets that the mews houses are built on are very pristine, architecturally beautiful and very picturesque. But that's not all. If you look at the broader picture, most mews houses are very close to the main shopping areas, tourist attractions, local parks and even the London underground stations. Let's take the example of the Royals Mews in London. It is not even 3 minutes away from the Victoria station and barely 9 minutes away from the Hyde Park corner station. While the Royal Mews might not be open for residential living, the point of it being accessible and central still stands.   The locals love mews houses because they are centrally located, easy to access and usually very close to the main streets of London.
2- Mews allows privacy and security
Mews houses are generally tucked away in some quiet cobbled street, and that is actually a good thing! Given that mews houses are never in your face, as they are usually located within smaller streets as opposed to residential properties located on the main streets of London. This means there is a very low possibility of tourists walking around or actually anyone wandering around for no rhyme or reason. This creates a sense of privacy and security, especially since people living in mews have a sense of community. Mews houses are generally tucked away in some side street, and that is actually a good thing!
3- Mews create a community
Think of all the residents of mews houses as good neighbours, they look out for each other and interact with each other – something that is not very common in London. Mews do not really have gardens, so most people sit outside in their patio to enjoy their afternoon tea or dinner beer. This allows the residents to communicate with each other, get to know each other and create a bond. Living in mews actually creates a feeling of belonging, a feeling which many people are looking for. After all, having a community to call your own does lead to better mental health, if nothing else.
4- Mews are easy to maintain
For a person working a 9 to 5 job, or even for a parent who has to take care of their children at home, managing a mews house is rather easy. Unlike a standalone house, mews houses have a much smaller floor plan – lesser space means less to clean. Maintaining, managing and cleaning mews houses is much easier even when compared to an apartment which could be stuffed or cramped up. The unusual size of mews houses have a distinct advantage – easy setup, easy maintenance and just enough space to manage comfortably. Plus, there is that added advantage of just locking up and leaving for vacation without thinking twice.
5- Mews are freehold properties
Saving the best for last, since mews houses are freehold properties they are not usually listed. This means that the owner can enjoy free ownership for perpetuity; in simpler words, you don't have to seek the landlord's permission to make major changes as long as these changes are as per the local regulations. Also, since mews are freehold properties, there is no issue or expense of leases – so you do not have to pay ground rent or service charge. If that isn't one of the best reasons to love mews houses, then what is?
The layout of a mews house is very adaptable – you can convert the mew to a family home, you could use one room as your home office or maybe convert your garage into a gym. Mews can adapt as per your imagination!  Mews houses are great for people who are looking for a new place to call home for themselves or their families.